Due to restrictions with the Gym space, practice is canceled for Tuesday Jan. 18th. Practice will resume tomorrow.
Tonight's Volleyball Game at Holly Cross has been postponed until February 7th. There will not be practice.

Some Title I Night fun! Thanks to everyone who came out ❄️📚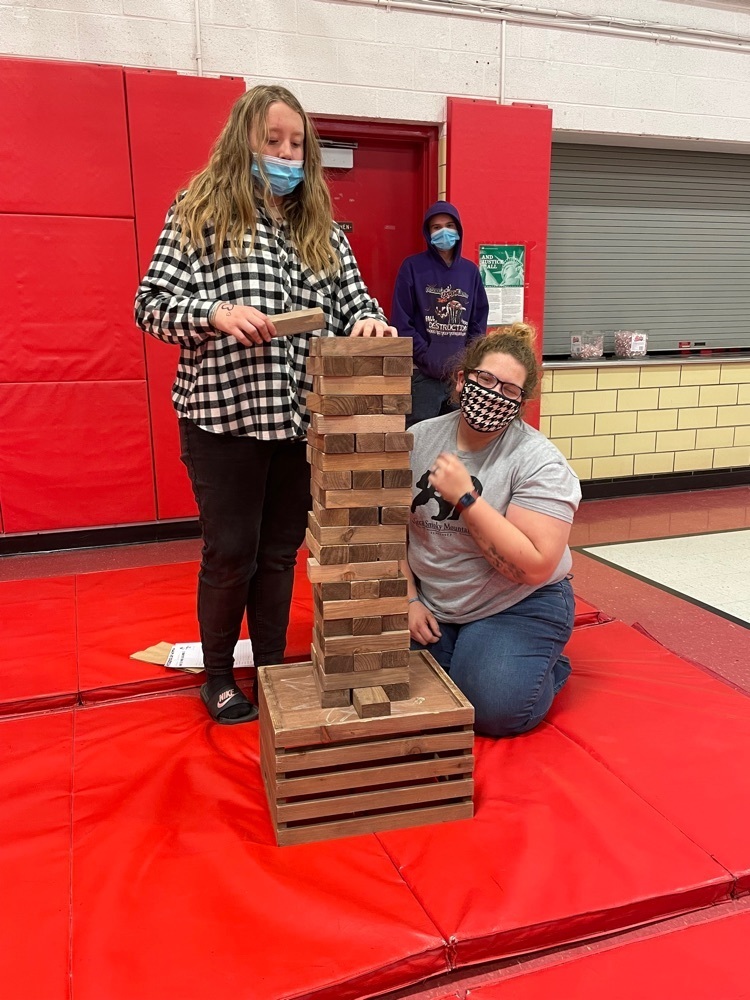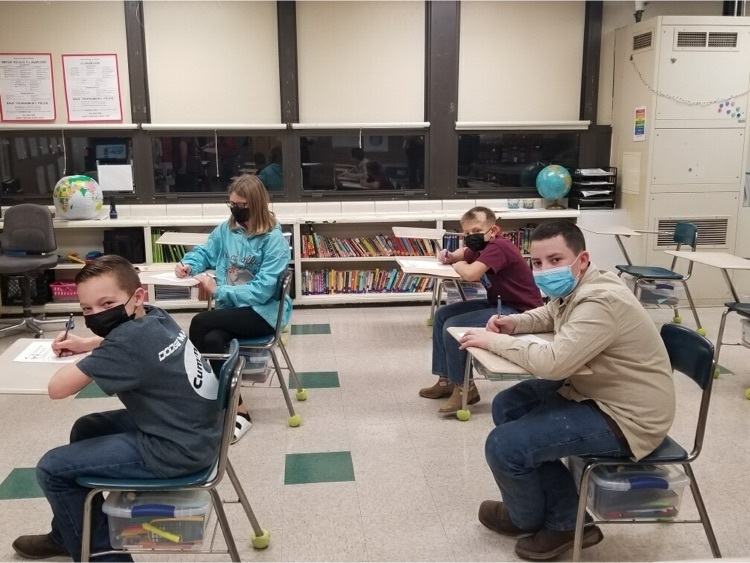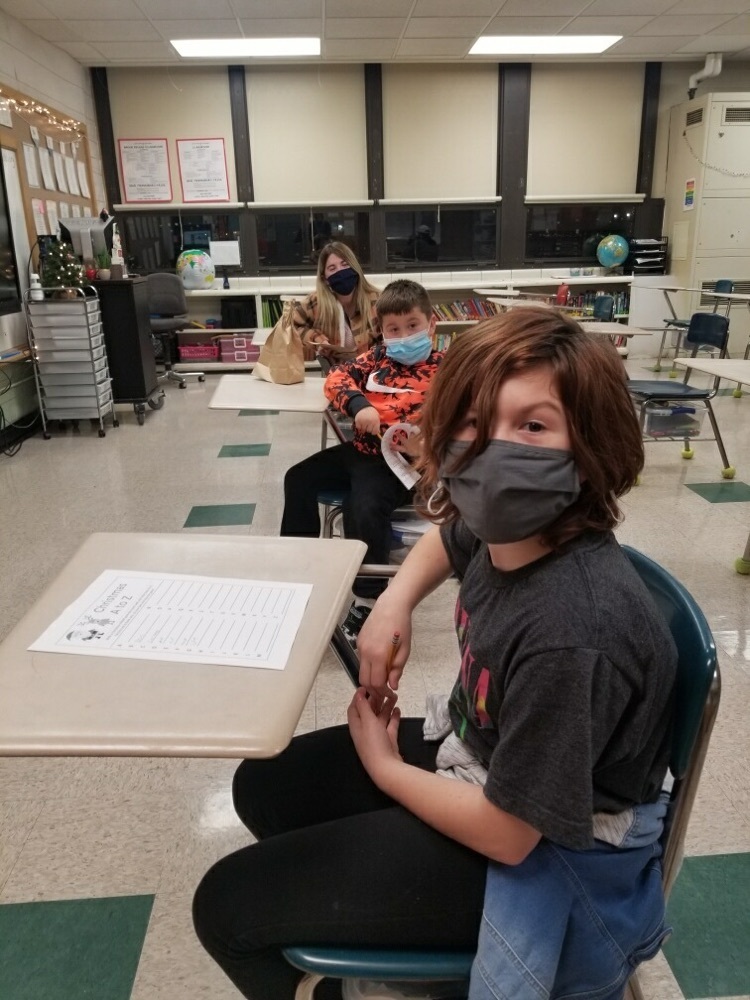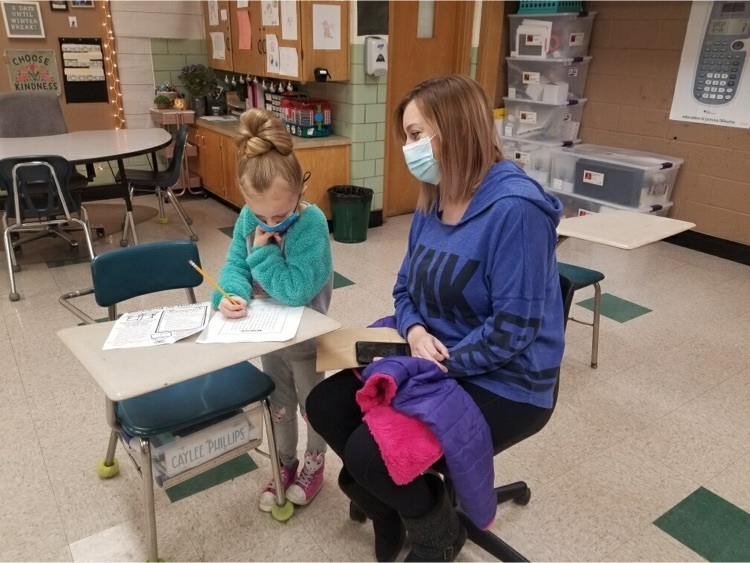 Happy holidays from 6th grade! ❤️🎄🎅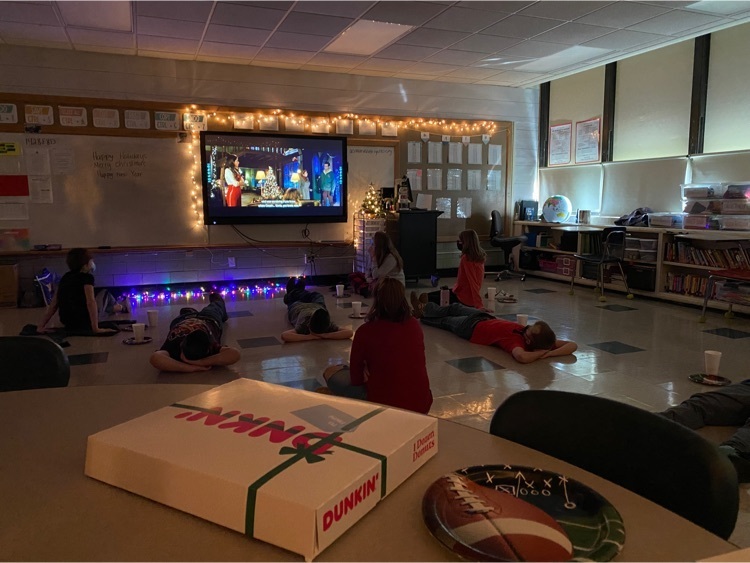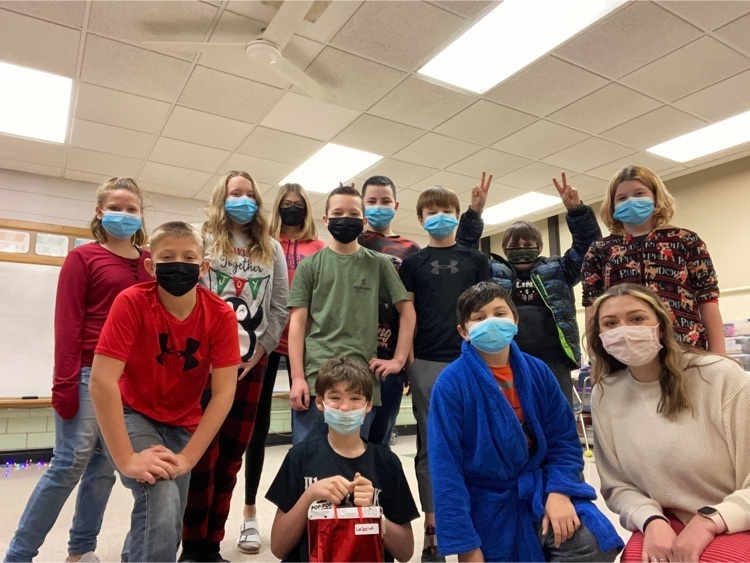 Good afternoon Students, Parents, and Staff, Last night, as you may know, was the first home volleyball game. We are very pleased with the start to the year this year. Not only were athletes fantastic, but we also had a good turn out. We would love to encourage the turn out, although there are a few things that we need to keep in mind to keep us from having to implement restrictions on the number of spectators that we allow to be at the game. 1. Per IESA Mandate, all spectators, staff, and athletes must wear a mask at all times. 2. Masks must be worn properly, this means the mask must cover the nose, the mouth and the chin. 3. Masks must be the appropriate style. Please keep in mind that gators, bandanas and slotted masks do not pass as appropriate face coverings. With that being said, many other schools have implemented restrictions. We will do our best to let you know before we head out to those events. Many are placing restrictions on when you may arrive and the number of spectators that are allowed to be at the games. Please keep this in mind as you head out to said events. We appreciate your efforts to keep our school, spectators, athletes, and staff safe. The last thing we wish to do is implement more restrictions, though we will if it becomes necessary. We look forward to having another fantastic season this year in volleyball. With your help, we can keep our school safe. Sincerely, Johnson Glascock Thomasboro Athletic Director

First Volleyball game tonight! First game is at 6:00. Good luck, girls! ❤️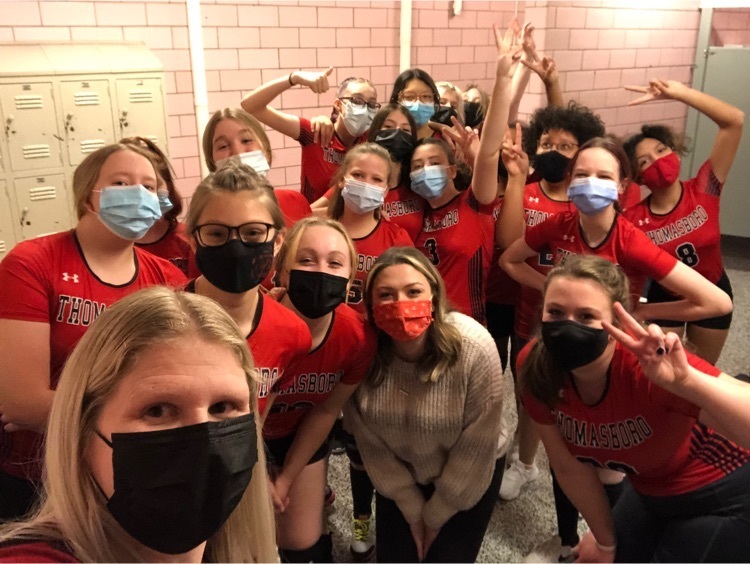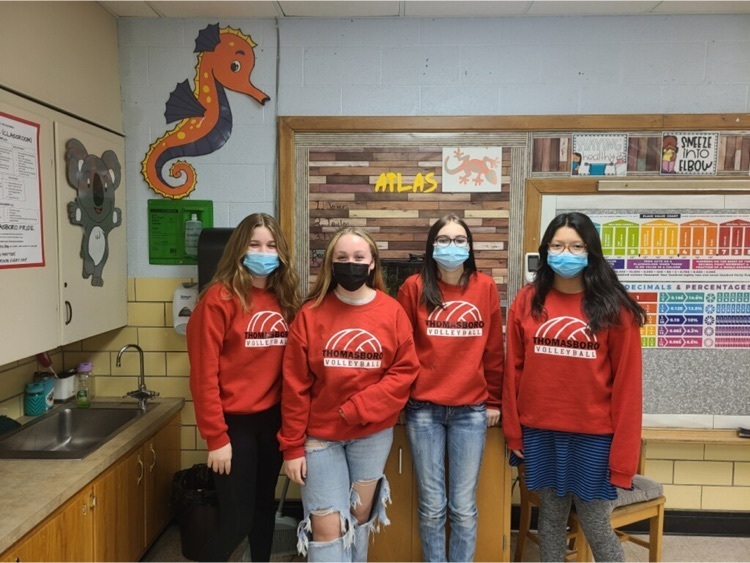 Girl's Volleyball is ready to work hard in their first game! Go Thomasboro!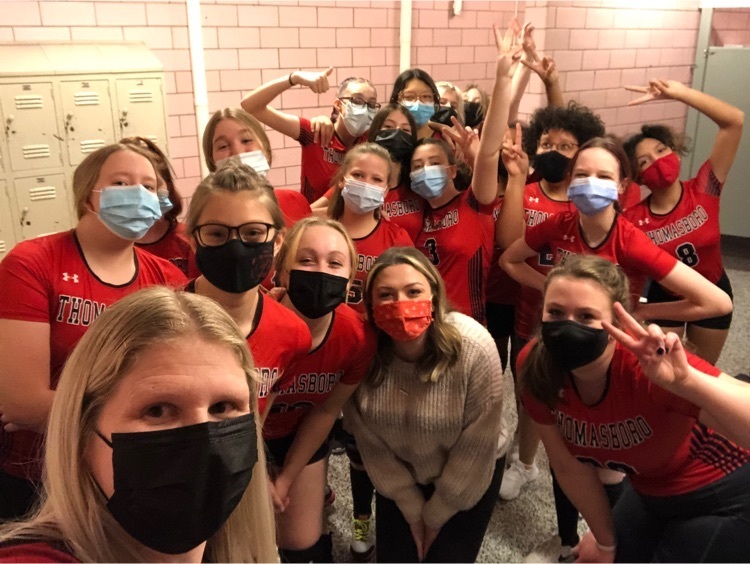 Reminder! Our 11:30 early dismissal scheduled for Friday, January 21st has been changed to this Friday, January 14th. We will dismiss this Friday, January 14th at 11:30 and will dismiss at our regular time on Friday January 21st. Have a great week everyone! 😁

Happy New Year! 🎉 Check out the January Newsletter. ❤️

NEW COVID-19 GUIDANCE Good morning TGS families. We realize that COVID cases are rising, we will continue to do everything in our power to keep our schools open. Currently, we have no plans to close our school buildings to go remote unless CUPHD, ISBE, or the Governor states otherwise. If that happens, I will follow their directive and inform our staff and you immediately to give you as much time as possible to make any necessary arrangements. We received new guidance regarding exclusion from school for positive and close contact cases. • Staff or students the test positive for COVID-19, regardless of vaccination status, will isolate for 5 days after onset of symptoms, or 5 days from specimen collection. • Staff or students who test positive for COVID-19 and have no symptoms can be released from isolation after 5 days. Day 0 is the first day of symptoms. If they develop symptoms they should end isolation when they are fever and symptom free for 24 hours. • When either of the above cases return to school on day 6 students should: o Continue to wear a well-fitted mask around others for 5 additional days. If unable to wear a mask when around others, the case will need to continue isolation for a total of 10 days. o Avoid being around students or staff with immunocompromised or at high risk for severe disease. o When eating breakfast, lunch or a snack the student must be 6 feet of physical distant from all others until 10 days after symptom onset or positive test. CLOSE CONTACTS Ages 5-17 years of age that have completed the primary series of Covid-19 vaccines. OR confirmed Covid-19 within the last 90 days (you tested positive using a viral test). • Quarantine not required. • Wear a mask around others for 10 days • Test on day 5, if possible • If you develop symptoms, they should immediately isolate until a negative test confirms symptoms are not caused by Covid. Unvaccinated or have not completed a primary vaccine series • Stay home and mask around others for 5 days, after that continue to wear a mask around others for 5 additional days. • Test on day 5, if possible • If a person develops symptoms, they should immediately isolate until a negative test confirms symptoms are not caused by Covid-19. The health department will no longer send out release letters for you to submit to school upon return. In order to return to school they are requiring us to collect proof of a negative test that was given on day 5 or later. Students can come to the school on day 5 or later and we will test them here, or you may choose to have them tested elsewhere. If they are tested elsewhere we will need proof of the negative test result. I would like to express my sincere appreciation for your understanding as we navigate this current Covid-19 season together. Thank you for working with us to ensure our children stay healthy, safe and IN SCHOOL! Sincerely, Bonnie McArthur Superintendent

Congratulations to the Honor Roll and High Honor Roll Students Honor Roll Tyler Baker Abigail Combs Avery Cunningham Addyson Kruger Raymond Lizik Helen McClain Bryton Ritter Carmen Sage Henry Sage High Honor Roll Nevaeh Brownfield Georgia Busboom Cody Chaney Daniel Cosand Leigha Dunn Ryanna Ednefield Ryder Evans Quentin Faulkner Jordan Franzen Leland Hollers Sophie Long Rebekka Maple Deacon Morgan Harper Morgan Caylee Phillips Eilla Pope Jaylen Raab Haley Sage Tyler Seals Aiden Stephens Skyla Vonderharr Layton White Ian Wolken

The board is holding a special meeting to hear public comments regarding the mascot. Thomasboro Community Consolidated School District #130 201 North Phillips Thomasboro, Illinois 61878 Special Meeting Public Comments Regarding Mascot January 18, 2022 5:00p.m.-6:00 p.m. Thomasboro Grade School Gym Agenda Action I. Call Meeting to Order a. Pledge b. Roll Call Info II. Public Comments Action III. Adjournment

Good Evening TGS Families: As you know, the new Omicron COVID-19 variant is hitting our State pretty hard.  Based on guidance I have received, I am not looking to close schools or transition to remote learning at this moment.  I would, however, like to offer the following important reminders to ensure TGS navigates this new surge as safely as possible.   Vaccinations Vaccination is one of the best tools we have to combat COVID.  The District continues to strongly encourage all staff, students, families, and others in the community who are not already vaccinated and boosted to do so now!  To find vaccine locations and see appointment availability, visit
www.vaccines.gov
.    Masks Mask use is required, regardless of vaccination status. Students and staff must remain masked at all times while indoors, except when eating.  Vaccinated staff members may remove their masks in very limited circumstances.   Social Distancing The District will continue to maintain as much distance between students as possible.   Symptom Screening Families are required to screen students for COVID-19 symptoms daily and keep their students home if they are sick.  Even though we are no longer screening students at school we will continue to monitor students for symptoms. Students should stay home and you should contact the office if they have any symptoms. Testing Weekly COVID-19 testing is still required for all employees who are not vaccinated.  Testing is encouraged for non-vaccinated students.  Testing is not recommended for asymptomatic staff and students who have been been vaccinated. Community testing sites, including the Marketplace Mall, have expanded testing access based on recent demand.  Information from CUPHD, including locations and testing hours, can be found here. Contact Tracing When cases surge, contact tracing becomes more difficult for many entities, and our District is no exception.  We ask for your understanding and full cooperation while we work through the calls and emails.  Please understand that we are prioritizing based on the specifics of what's been reported so you may not be contacted right away.  We appreciate your patience and support.      Updated CDC Guidance The District is aware of the updated CDC and IDPH guidance for the general public.  At this time, these updates do not apply to schools and we will continue to use our current protocols. If and when new guidance is issued, we will review and incorporate it as needed.  Contingency Planning As stated earlier, although we plan to operate normally at this time, I will continue to evaluate the situation in consultation with our partners at CUPHD.  In the event the need to pivot arises, we will do so.  It is always recommended that staff and students are prepared to use their Chromebooks/Laptops that were checked out to them at home. Wishing You A Healthy & Happy New Year,   Bonnie McArthur Superintendent

Attention Girls Volleyball- practice has been canceled for the rest of this week. Practice will resume next week. Enjoy the rest of your break! Happy new year!

The TGS Office will be closed Wednesday, December 22 until noon. They will also be closed Friday, December 24th, Monday, December 27th and Friday, December 31st. Happy Holiday's.

We successfully supported over 30 families this holiday season. Thank you to those who generously donated: The Gifford State Bank, Miller Automotive, TIA Hall, Concrete Inc., Vogelsang PlumbingThe Seder Family, The Evans Family, The Novak Family, The Johnson Family and co-workers, The Summers Family, Thomasboro Faculty, Staff, and Administration. Happy Holidays!


I am writing to inform you and not to alarm you. The Thomasboro Grade School has been made aware of a circulating TikTok post with a nationwide "school shooting and bomb threats for every school in the USA even elementary" that will supposedly take place on Friday, Dec. 17, 2021. The original post is general and not directed at a specific school. So far, the origins of this post are unknown and there is no indication this post is within Thomasboro Grade School. This information has been shared with our District and school administration, and local law enforcement. Please know that, in conjunction with local law enforcement, we will continue to monitor social media. There are no indications of known threats within Thomasboro Grade School at this time. I am sharing this notice out of an abundance of caution and as a precautionary measure. [As a reminder, tomorrow is an early release for students and the last day before winter break] The safety of our students and staff is our priority. All safety concerns to our school or students are taken seriously and investigated thoroughly. Since returning to in-person learning this school year, schools nationwide are dealing with school safety concerns that seem to be heightened and causing anxiety, fear and nervousness among our staff and students. Here are some key points about making good decisions and easing these concerning feelings: • Be sure to report any concerning message you hear or see in person or online to a trusted adult, school administration or staff member, or police. • The Safe2Help Illinois is a 24/7 program for students to share school safety issues, find resources to get help and find encouragement to help others. • Please do not promote social media rumors, instead, tell us. • If you feel uncomfortable about something you read, something you hear, something you see please, report it so we can do something about it. • Know who is connecting with your children online and set rules for social networking, instant messaging, e-mailing, online gaming and using webcams. Thomasboro Grade School is committed to keeping our schools a safe place for learning, and we will work together to continue to keep it that way. Please don't hesitate to contact Mrs. White or Mrs. McArthur if you have any questions or concerns. Sincerely, Mrs. McArthur and Mrs. White

Good evening! Reminder- tomorrow, Thursday, is our family night! Please join us from 6:00-7:00pm at the school for our Title 1 family night. We will have crafts, games, and fun. Students must be accompanied by an adult. This is a free event. Each student will receive a snack to take home and enjoy. Masks must be worn at all times during this event. Hope to see you all there! 🎄🎅🏼🤶🏻

The buses will be 15 minutes late today.